Vancouver Men's Chorus Presents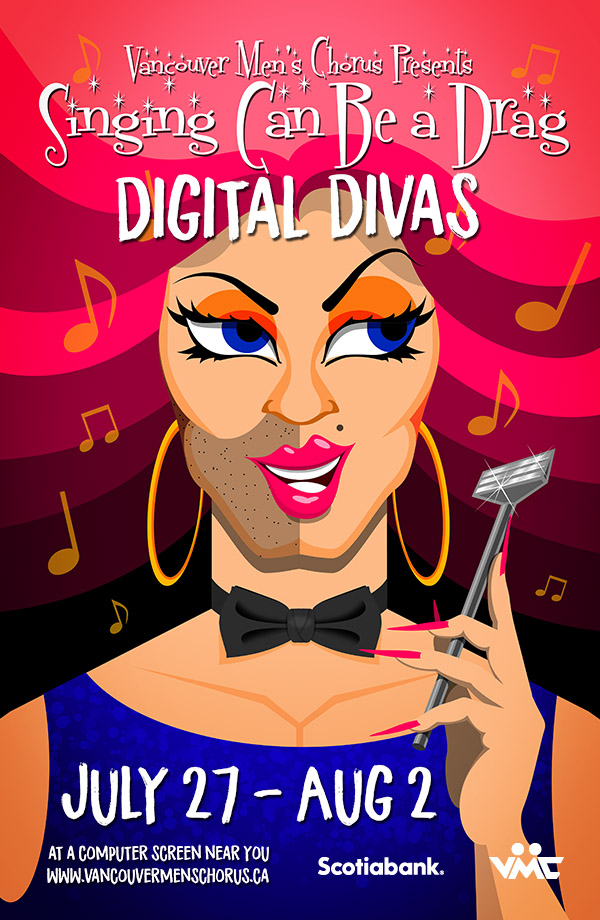 About the concert:
Digital Drag takes center-screen this year as the Vancouver Men's Chorus celebrates it's 40th season with its annual drag cabaret show Singing Can Be a Drag 2021: Digital Divas! From Disney to dance hits, Gaga to "Glitter and be Gay", drag audiences from all over the world are sure to be dazzled by the Queens of the VMC singing LIVE!
For our show, each queen is producing their own music video segment to be included in the broadcast—from directing, recording, wig styling, makeup, costumes, editing—we have taken an "all Queens on deck" approach to make this show a success for our patrons and community.
Our Queens really can do it all!
Community outreach and collaboration have been core values of the VMC, and this year we hope to take Singing Can Be a Drag to the next level. In the spirit of Pride and community, Singing Can Be a Drag 2021 is going to be shown 100% free of charge and will be premiering on Tuesday, July 27 at 8 p.m. PDT on the VMC YouTube channel (@VancouverMensChorus) and will be shown all through Vancouver's Pride Week. It is our way to thank our audiences as well as give back to them for supporting us over the past 40 years. We also hope to reach new audiences all over the world with our digital drag show.