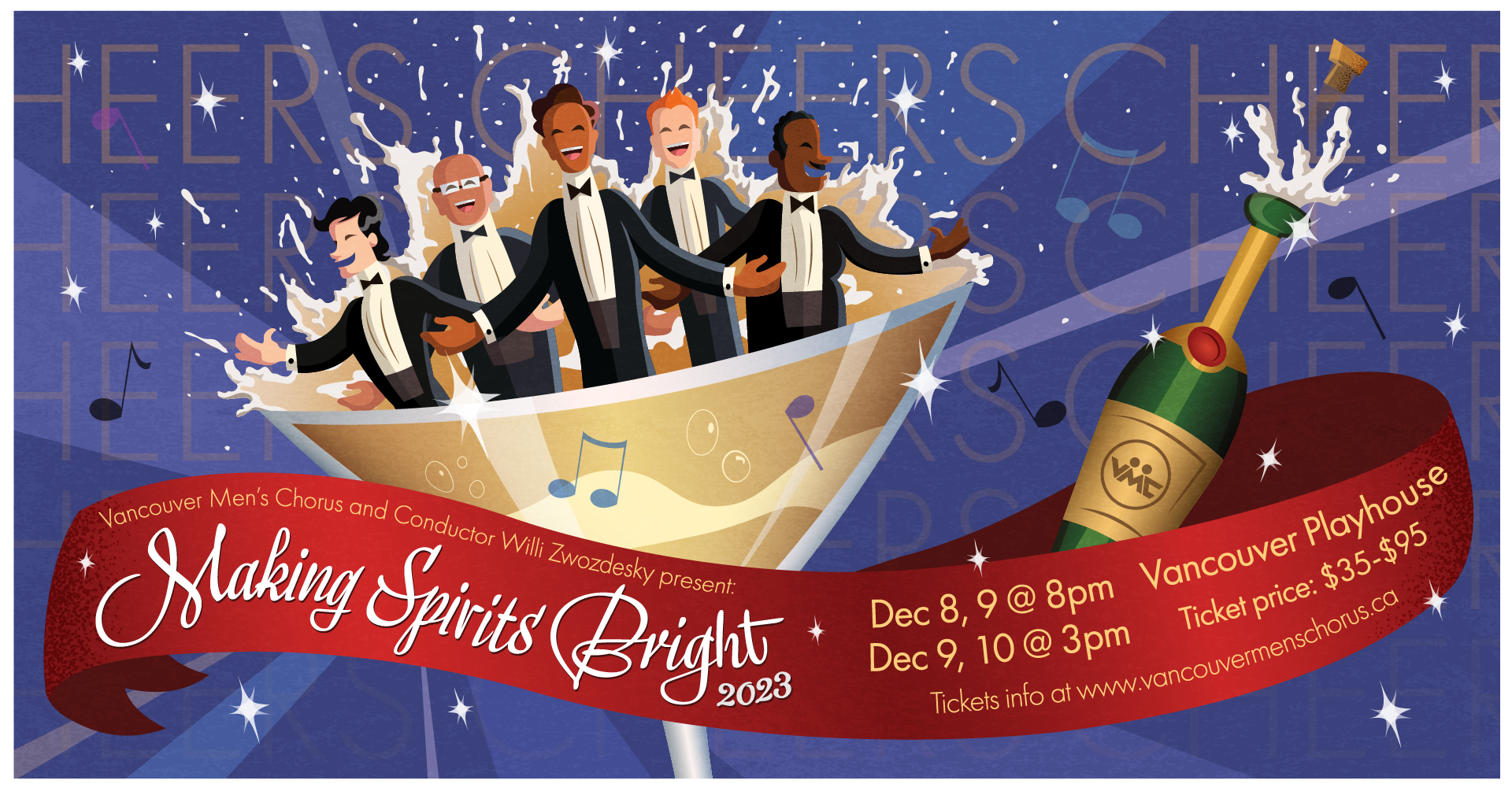 Vancouver Playhouse
Dec 8, 9 at 8 p.m. | Dec 9, 10 at 3 p.m.
Ticket Price
General admission Balcony: $35
General admission Orchestra: $45
Patron tickets: $95
Cheers to another year!
Shorter days? Greyer skies? We all know what that means! It's time to pull out your gayest apparel because the Vancouver Men's Chorus's legendary Making Spirits Bright performances are right around the corner!
Whether it's for the first time, 43rd, or somewhere in between, join us as we toast the festive season with an effervescent array of sparkling songs, fizzy fun, and heartwarming harmonies! Making Spirits Bright 2023 will take you on a musical sleigh ride where new and old memories twinkle and shine. And, as always, enjoy the fun in just the right measure.
Four shows at Vancouver Playhouse
Returning by popular demand, we are hosting this year festivities once again at the Vancouver Playhouse!
A classic in its own right, The Vancouver Playhouse has been a staple in Vancouver's performing arts community since 1962. "Polished and intimate, the Vancouver Playhouse exudes a cozy atmosphere that lends a familial dimension to dance, film and theatre performances. The forward plan of the stage makes the space particularly appealing for acoustically driven performances like chamber music and spoken theatre."
With ample seats—balcony and the orchestra—you will be able to enjoy the show with comfort. 
The Balcony is Opened! 
With the ample space at The Vancouver Playhouse, this year the VMC has created a new separate price for general admission tickets in the balcony of $35.
These seats offer the wider view of the balcony all while enjoying perfect sound quality; after all, there aren't any bad seats in the Playhouse! For a more up-close and personal show, general admission orchestra seats will still be available at the regular $45 per ticket amount.
Accessible Seating and Parking
There are 5 wheelchair spaces in the theatre orchestra level. Please note your accessible seating requirements at the ticketing check-out page or contact us at tickets@vancouvermenschorus.ca. We will try our best to accommodate you and your guests to sit together, but please understanding guests accompanying with wheelchair access might not be sitting adjacent to each other, depending on availability.
Accessible parking is available at the Easy Park Queen Elizabeth Theatre parkade with an accessible parking decal. Accessible parking must be reserved 7-10 days in advance and is subject to availability. Call Easy Park at 1-888-501-1343 (extension 1) for more information or to reserve.
There is an elevator from parking to the QET and Playhouse Hamilton Street entrances which is available 60 minutes before show times.
Patron support
Considering becoming a patron of the Vancouver Men's Chorus! For an extra $50, you will get the best seats in the house reserved, plus you will receive a $50 tax receipt. It's really a win-win!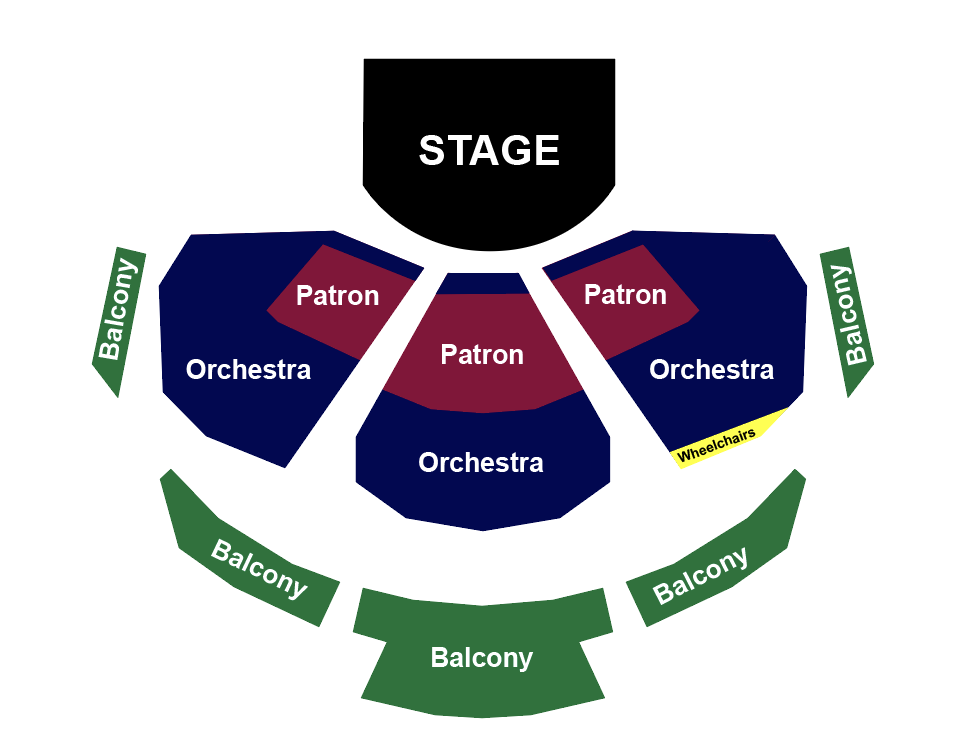 *Seating diagram not to scale
Please note:
Gen Adm tickets are available at:
Scotiabank - Robson & Bute, Vancouver
for the following performances:
Fri Dec 08 - 8:00
Sat Dec 09 - 3:00
Sat Dec 09 - 8:00

Reserved Seating Patron
$50 tax receipt issued in name of purchaser
MSB Patron: Fri Dec 08 - 8:00
MSB Patron: Sat Dec 09 - 3:00
MSB Patron: Sat Dec 09 - 8:00
MSB Patron: Sun Dec 10 - 3:00
General Admission Orchestra

MSB Gen - Orchestra: Fri Dec 08 - 8:00
MSB Gen - Orchestra: Sat Dec 09 - 3:00
MSB Gen - Orchestra: Sat Dec 09 - 8:00
MSB Gen - Orchestra: Sun Dec 10 - 3:00
General Admission Balcony

MSB Gen - Balcony: Fri Dec 08 - 8:00
MSB Gen - Balcony: Sat Dec 09 - 3:00
MSB Gen - Balcony: Sat Dec 09 - 8:00
MSB Gen - Balcony: Sun Dec 10 - 3:00