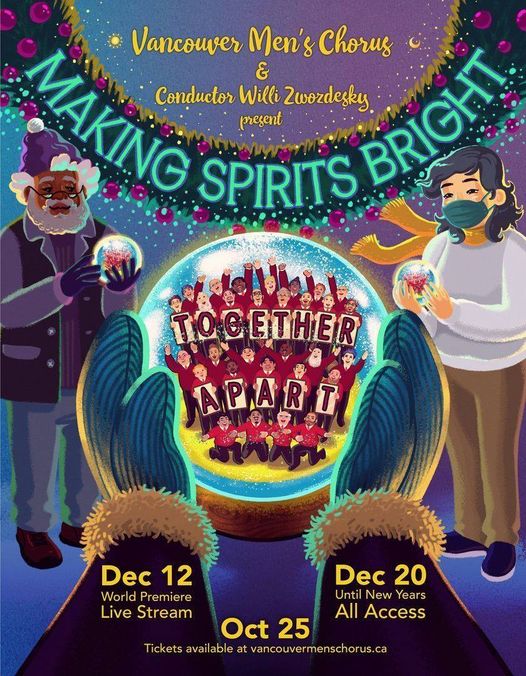 How do the tickets work?
Each ticket allows you to login and play the concert on your Smart TV, computer, tablet, or even smart phone!
You will receive the link to the concert a few days before the show, along with the instructions on how to access the show.
You don't need any kind of special account to watch the show
For ticket holders of the World Premier Live Streaming and the Patron Ticket Deluxe Package, we will be mailing you the House Programme and bonus items.
All ticket levels allow you to watch, and re-watch, the show from Dec 20 to Jan 2, an unlimited number of times.
There is no limit to how many people can watch the show together, so you need to only buy one ticket per household/gathering.
It is an online show, it will never sell out.
Tickets:
There are three types of tickets for this special event; every tier adds more bonus perks.
All packages comes with All Access viewing from Dec 20, 2020 until Jan 2, 2021 and a digital house programme.
Consider adding Raffle Tickets during payment, check out our list of amazing prizes this year!
To give us time to ship your items, we recommend purchasing World Premier Live Streaming and Patron Ticket Deluxe Packages on or before November 30th.
Packages purchased after Dec 3rd may not be received in time for Christmas.

How do I buy tickets as gifts?
All Access tickets

Purchase the tickets yourself
Email tickets@vancouvermenschorus.ca with the gift recipient's name and email address and we'll update the ticket purchase with their information.
We'll directly email your gift recipients the viewing link for the MSB concert in early December

World Premier Live Streaming and Patron Ticket Deluxe Packages

Purchase the tickets yourself
Email tickets@vancouvermenschorus.ca with the gift recipient's name, email address and shipping address and we'll update the ticket purchase with their information.
We'll directly email your gift recipients the viewing link for the MSB live stream in early December and directly ship them their extra goodies
All Access
until New Years
All Access Viewing: Dec 20 – Jan 2
Digital House Programme
World Premiere
Live Streaming + All Access
All Access Viewing: Dec 20 – Jan 2

Digital House Programme

Live Streaming Viewing: Dec 12 @ 7pm PST
Printed House Programme
Live Hosts and Audience Chat
VMC Interactive Trivia Game (Hints given during Live Stream)
Patron Ticket
Deluxe Package
All Access Viewing: Dec 20 – Jan 2

Digital House Programme

Live Streaming Viewing: Dec 12 @ 7pm PST

Printed House Programme signed by Willi Zwozdesky

Live Hosts and Audience Chat

VMC Interactive Trivia Game (Hints given during Live Stream)

Physical Copy of MSB Live! CD
Exclusive Encore Performance Video
A Special Thank You Video from the VMC
"Out Of Silence" Digital Book
Show Snacks (for you to enjoy with the show)
General Admission Tickets