Synergy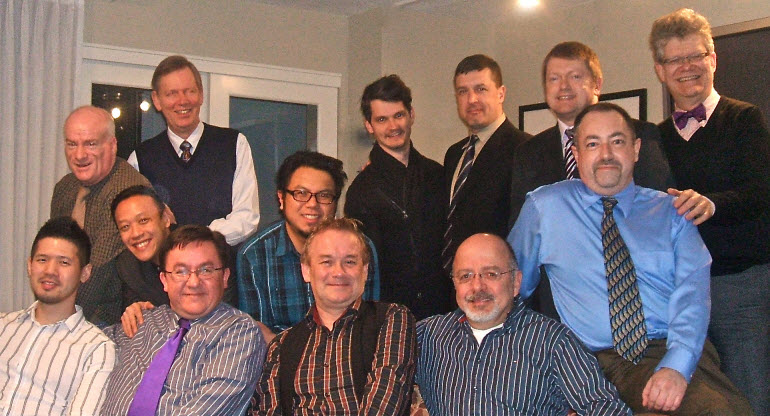 Synergy, the acappella ensemble of the Vancouver Men's Chorus, was formed in October 1998 under the direction of the VMC's resident accompanist, Stephen Smith. Over its fifteen seasons, the group earned a reputation for great singing in a variety of styles ranging from renaissance to jazz, and from motets to Motown!
In addition to their regular appearances in VMC mainstage concerts, Synergy performed at festivals in Chicago, San Jose, Toronto, Vancouver, Montreal, Winnipeg, and London, England; in self-produced concerts and as guests of other ensembles; in benefits for gay and lesbian organizations in Vancouver, Victoria, and Kamloops; on cable and network television; and at scores of parties, weddings, and community events. In 2008 they released their first CD, entitled Synergy: Songs of Nature, Love, and Celebration.
Synergy was regularly seen spreading Christmas cheer at Holt Renfrew, the Hotel Vancouver, and St. Paul's Church in the West End, where they would round out the Christmas season with a carol sing along called The Big Christmas Sing.
"Around Town" columnist Raziel, writing in the Dec. 29, 2011 issue of Xtra!, said the event was "incredible… It was the most Christmassy I've felt since I was a… four-year-old." As for Synergy, he wrote: "They're a group of sweet guys with beautiful voices. They have a genuine love for music, and it shows."
After 15 seasons, 44 members, 300 performances, 160 songs in 25 languages, and 7 festivals in 3
countries, Synergy hung up its collective hat at the end of the 2012-2013 season.
They would like to thank you for your support and loyalty over the years, and hope that you will continue to share their own fond memories of performances past. And of course, they can always be heard on their CD, Songs of Nature, Love, and Celebration, available online or at VMC performances.
Contact Stephen Smith
at 604-739-8046,
or email: smithstephen@shaw.ca
Synergy performed in Morton Park in 2008 for CTV. Hear and see them on You Tube.