The Vancouver Men's Chorus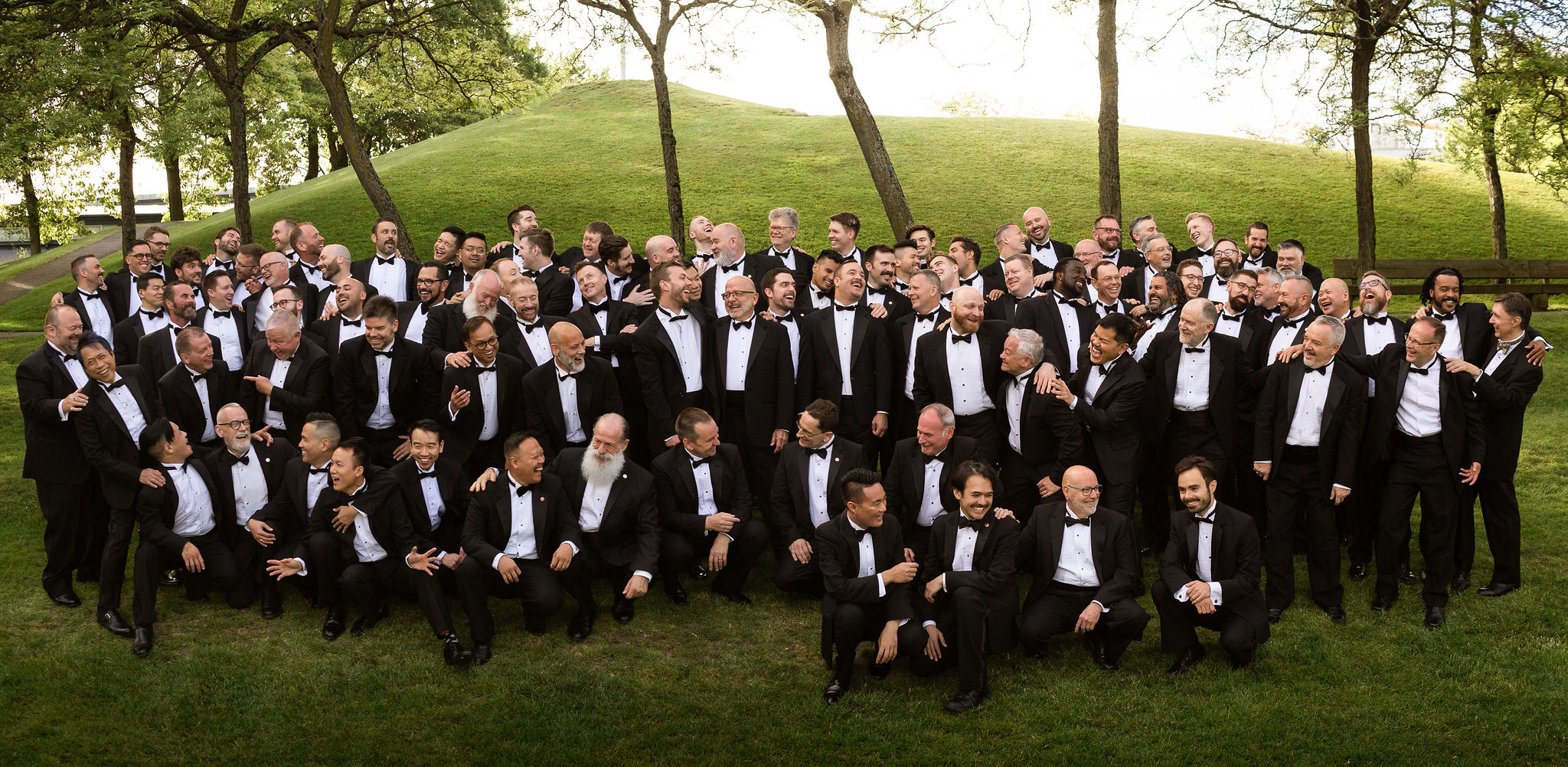 The Vancouver Men's Chorus is one of Canada's premier singing ensembles and Canada's first gay chorus. For more than 40 years, we've delighted audiences locally and abroad. At the core of the Chorus' achievements stands its contribution to the creation of new repertoire for men's and mixed voices. Custom-made arrangements, notably by Willi Zwozdesky, Stephen Smith, and other Canadian arrangers are a hallmark of VMC programming. As a result of this and the Chorus' wide-ranging concertizing, VMC arrangements are now heard in concert halls around the world. Original commissions have included Vancouver composers Michael Conway Baker, Ramona Luengen, Anita Perry, Rupert Lang, Stephen Smith, and Willi Zwozdesky, and Toronto composer Eleanor Daley. In 2000, the Chorus was also among the original commissioning choruses of Alan Shorter's setting of the children's story Oliver Button is a Sissy.
The Chorus is a member of the British Columbia Choral Federation and of GALA Choruses (an association of over one hundred men's, women's, and mixed choruses from the United States, Canada, Europe, and Australia, dedicated to providing leadership and inspiration to the gay and lesbian movement through excellence in the choral arts).
Charitable Status
The Vancouver Men's Chorus is registered federally as a charitable not-for-profit organization and provincially under the Society Act of the Province of British Columbia.
Provincial Registration Number: S16822
Federal Charitable Business Identification Number:
11926 1154 RR0001
Choral collaborations have included:
Elektra Women's Choir
The Seattle Women's Ensemble
A Vancouver Women's Chorus
Gay Men's Chorus of Toronto
Gay Men's Chorus of Washington, D.C.,
Gay Men's Chorus of Rochester, N.Y.
Gay Men's Chorus of San Diego
Men Alive – The Orange County Gay Men's Chorus
Portland Gay Men's Chorus
Seattle Men's Chorus
Melo' Men (Paris, France)
Chor Leoni (Vancouver)
Bach Choir (Vancouver)
Rainbow Harmony Project (Winnipeg)
Solo guests have included:
Dame Kiri Te Kanawa
Heather Bishop
Grammy winner Diane Schuur
Marni Nixon
Ronnie Gilbert
Roy Bailey
Ferron
Louise Rose
David Sereda
Joelle Rabu
Leora Cashe