VMC Winter Raffle is Back!
Nov, 2020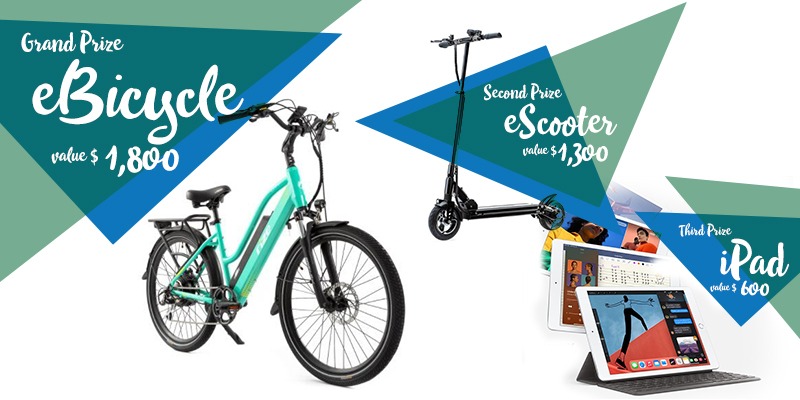 Our beloved Winter Raffle is back! Just like Making Spirits Bright is going digital this year, our raffle is also going virtual. We have three absolutely wonderful prizes—adding up to over $3,700 value—you will love!
First, we have an electric bicycle by Rize. This sturdy little thing has a range of 70+km and comes with mechanical brakes and cadence sensor; perfect for your daily commute in town, or even a nice ride around the Seawall. We also have an electronic scooter from Urban Mechina. At top speed of 35km/hr, you can really take it out for a breezy ride around your neighborhood! Finally, we have the latest and greatest 128Gb iPad, a perfect additional to your digital life!
So what are you waiting for? Grab a ticket (or two… or a dozen) now! Good luck.
Concert Announcement:
Making Spirits Bright 2020
Oct, 2020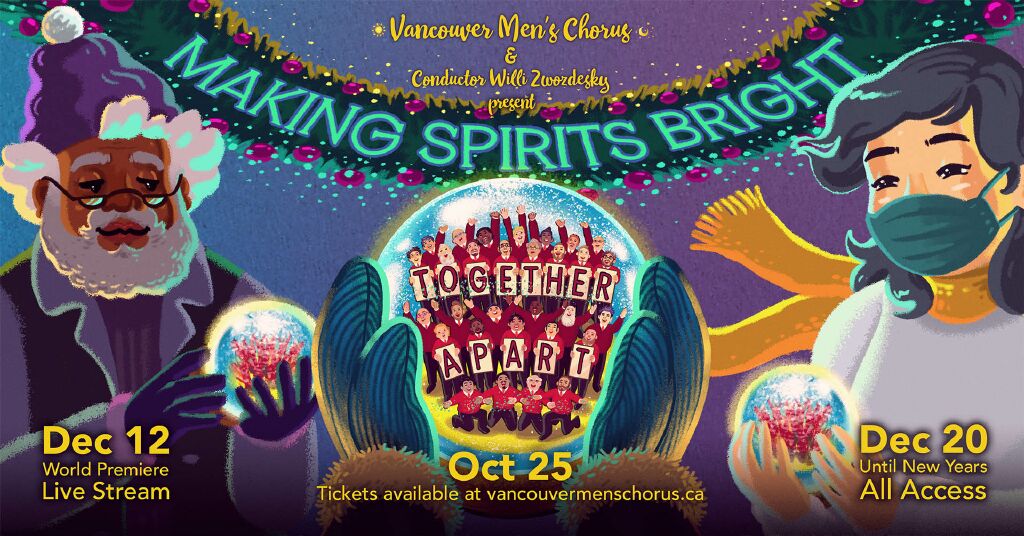 Making Spirits Bright has moved online for 2020!
It's an understatement to say that 2020 has been a year of significant loss in ways we didn't know possible, and also a year of reckoning for reasons that are long overdue. We also understand the role that we, the Vancouver Men's Chorus, play in many of our fan's lives in kicking off your holiday season. As a queer arts organization, we thrive on spreading joy to our audiences, both at home and around the world. That is why ensuring Making Spirits Bright 2020 could go ahead has been a top priority for us as an organization, to make sure that our members and, most importantly, our fabulous and dedicated audience can still experience the joy of the season at the end of a year when it is needed most.
In Making Spirits Bright: Together | Apart, we will be combining virtual choir with a full hour concert experience you've come to expect in our winter show. We are so excited to be welcomed into your homes this holiday season, for an incredibly unique concert experience that we promise will live up to the caliber that you have come to expect from the Vancouver Men's Chorus.
So save the date, tickets going on sale Now!
Are You Ready? I think I'm Ready!
Aug, 2020
Hope you all have enjoyed a safe and happy summer full of laughter, pride, and socially distanced mirth and merriment. As the VMC winds down our 39th season (can you believe it? 39 years!), we want to take a moment to thank you, our valued patrons, without whom nothing we do would be possible. While the season did not go quite how we planned, we are proud of the way we all came together to continue to create, sing, and keep our VMC brotherhood thriving.
Our first virtual project, Anthem by Leonard Cohen, was widely received and your generous donations were greatly appreciated. The fact that we are unable to perform in person has certainly affected our financial picture which of course relies on ticket sale revenue for concerts and fundraisers. Looking ahead, we have been hard at work adapting to the current climate and we have some very exciting projects in the works that we cannot wait to share with you, so stay tuned for updates!
As a thank you for your continued support, the boys recorded a little something for you. While Pride was a little different this year, we couldn't resist the opportunity to come together—digitally of course—and celebrate the only way we know how: with song. Please enjoy the beloved late Gerry Ryan's arrangement of Freeway of Love and we will see you all real soon!
Words and music by Jeffrey Cohen & Narada Michael Walden. Choral arrangement by Gerry Ryan.
Performance: Vancouver Men's Chorus
Conductor – Willi Zwozdesky; Piano – Stephen Smith; Drums – Phil Belanger; Trumpet – Mark D'Angelo; Tenor Sax – Mike Braverman; Trombone – Greg Passmore; Bass Guitar – Laurence Mollerup; Percussion – Martin Fisk; Choreographer – Randy Romero; Videographer – Mark Halliday; Audio Recording – Len Christiansen; Video Producer – Yogi Omar; Video Editor – Cameron Power
We are still here!
July, 2020
As you are all aware, due to the recent COVID-19 restrictions we have had to cease all in-person rehearsals and performances. We want to assure you this is only temporary and our members have been virtually meeting weekly to keep spirits and camaraderie alive. Equally important to the music of the VMC is the family we create, and rest assured, that family is thriving.
We cannot wait until the day comes when we can see your bright faces in person and perform for you live again. We are diligently following the health recommendations set forward by the province and will be updating you as soon as we know more. Remember – this is only the intermission, the show will go on!
Until then, we have recorded a little something for you! Check out the link below to see our boys perform Anthem by Leonard Cohen, from our homes to yours. If you're feeling generous and wants to help us creating more virtual content, such as this one, make a donation! Your contribution will ensure the chorus continue to thrive during the pandemic. We might even have something special for you this coming holiday season. So stay tuned!
Words and music by Leonard Cohen Choral arrangement by Willi Zwozdesky
Performance: Vancouver Men's Chorus
Conductor – Willi Zwozdesky; Accompanist – Stephen Smith; Percussionist – Phil Belanger; Audio recording – Brian Chan; Audio assistance – Len Christiansen; Video producers – Yogi Omar & Cale Tian; Video editor – Cameron Power
Stay Connected to the VMC