We Are The Vancouver Men's Chorus: The Movie
At a dinner party in the fall of 2015, filmmaker Mark Halliday came up with an idea to work on a documentary style film featuring the beloved Vancouver Men's Chorus. Over the course of the next two years, Mark followed the VMC behind-the-scenes, captured thousands of hours of footage, and interviewed members of this tight-knitted chorus.
There was no script but, through the interviews, three themes became clear: the VMC has built and shaped a community for queer and gay men in the past four decades; their performances have changed their audience in the most unexpected ways; the chorus has became a chosen family and has integrated with the lives of its members forever. The interviews, combined with clips Mark filmed of the VMC performances in 2016 and 2017, provided an intimate snapshot of Canada's first GBTQ2+ chorus.
We Are the Vancouver Men's Chorus debuted at the 2018 Vancouver film festival 'Out on Screen' and was featured at the 2019 Atlanta film festival 'Out on Film', and later released on OutTV.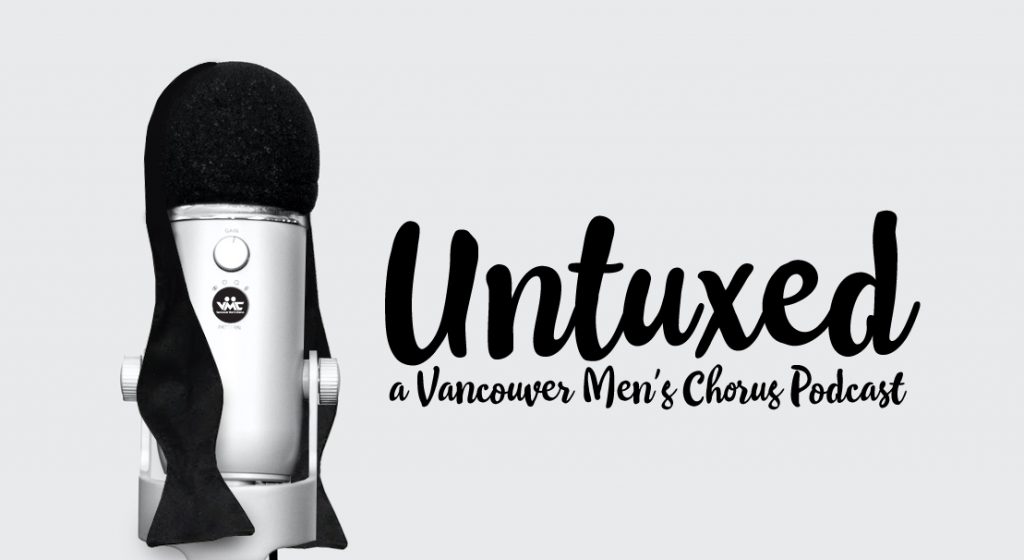 We Started a Podcast!
Well, what better way to get to engage with our members during the pandemic than to have a kiki via Zoom? Join our hosts Mikey Van Nen (Tenor 1) and Cale Tian (Tenor 2), as we kick off the 40th season of Vancouver Men's Chorus with
Untuxed

: a Vancouver Men's Chorus Podcast
. Dedicated to the legacy of VMC's first four decades, we share the stories of our members and our organization. Exploring beyond the stage as we share memories of singing, rehearsing, performing, and even a little bit of drag.
Listen and subscribe to Untuxed at anywhere you listen to your podcasts.
We are still here!
As you are all aware, due to the recent COVID-19 restrictions we have had to cease all in-person rehearsals and performances. We want to assure you this is only temporary and our members have been virtually meeting weekly to keep spirits and camaraderie alive. Equally important to the music of the VMC is the family we create, and rest assured, that family is thriving.
We cannot wait until the day comes when we can see your bright faces in person and perform for you live again. We are diligently following the health recommendations set forward by the province and will be updating you as soon as we know more. Remember – this is only the intermission, the show will go on!
Until then, we have recorded a little something for you! Check out the link below to see our boys perform Anthem by Leonard Cohen, as well as our version of Freeway of Love, from our homes to yours. If you're feeling generous and wants to help us creating more virtual content, such as this one, make a donation! Your contribution will ensure the chorus continue to thrive during the pandemic. So stay tuned!
Words and music by Leonard Cohen Choral arrangement by Willi Zwozdesky
Performance: Vancouver Men's Chorus
Conductor – Willi Zwozdesky; Accompanist – Stephen Smith; Percussionist – Phil Belanger; Audio recording – Brian Chan; Audio assistance – Len Christiansen; Video producers – Yogi Omar & Cale Tian; Video editor – Cameron Power
Words and music by Jeffrey Cohen & Narada Michael Walden. Choral arrangement by Gerry Ryan.
Performance: Vancouver Men's Chorus
Conductor – Willi Zwozdesky; Piano – Stephen Smith; Drums – Phil Belanger; Trumpet – Mark D'Angelo; Tenor Sax – Mike Braverman; Trombone – Greg Passmore; Bass Guitar – Laurence Mollerup; Percussion – Martin Fisk; Choreographer – Randy Romero; Videographer – Mark Halliday; Audio Recording – Len Christiansen; Video Producer – Yogi Omar; Video Editor – Cameron Power
Stay Connected to the VMC