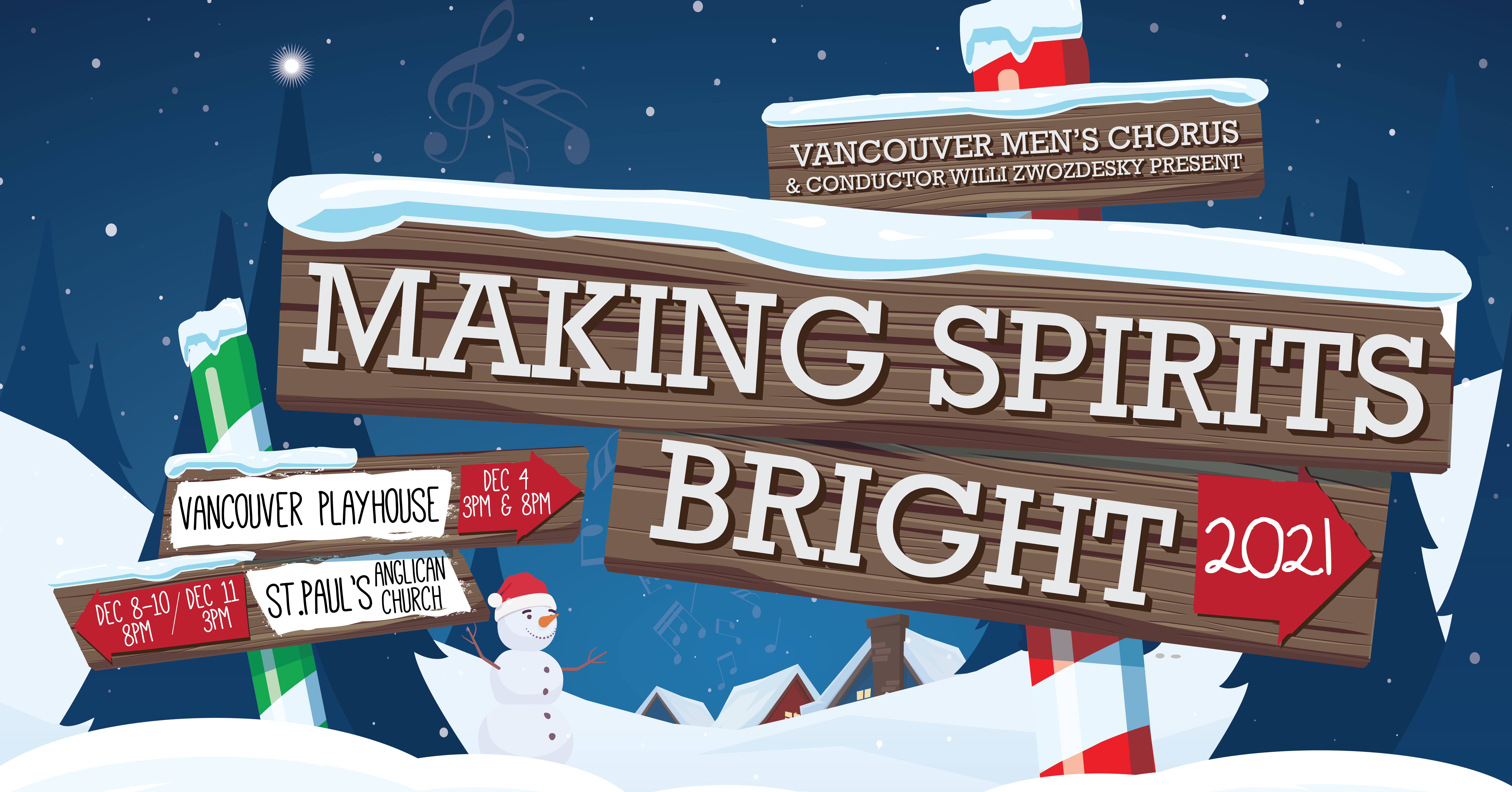 Making Spirits Bright is Back!
Making Spirits Bright 2021
Vancouver Playhouse
Dec 4 @ 3 p.m. and @ 8 p.m.
St. Paul's Anglican Church
Dec 8, 9, 10 @ 8 p.m. and Dec 11 @ 3 p.m.
Join the Vancouver Men's Chorus as we celebrate more than 40 years of our "Making Spirits Bright" holiday season celebration! Let us take you on a journey from the past, to the present and future as we perform some of your old favourites, current hits, and perhaps even some classics-to-be!
This concert is uniquely designed to allow our full chorus to sing together safely—you will experience the Vancouver Men's Chorus transforming and intersecting with each other during the show, while delivering some of our most beautiful music to you.
Whether you've succumbed to the Yuletide or have yet to shake off the humbugs, let the VMC's return to the live stage send you off into the holiday season with cheer to brighten the rest of your 2021!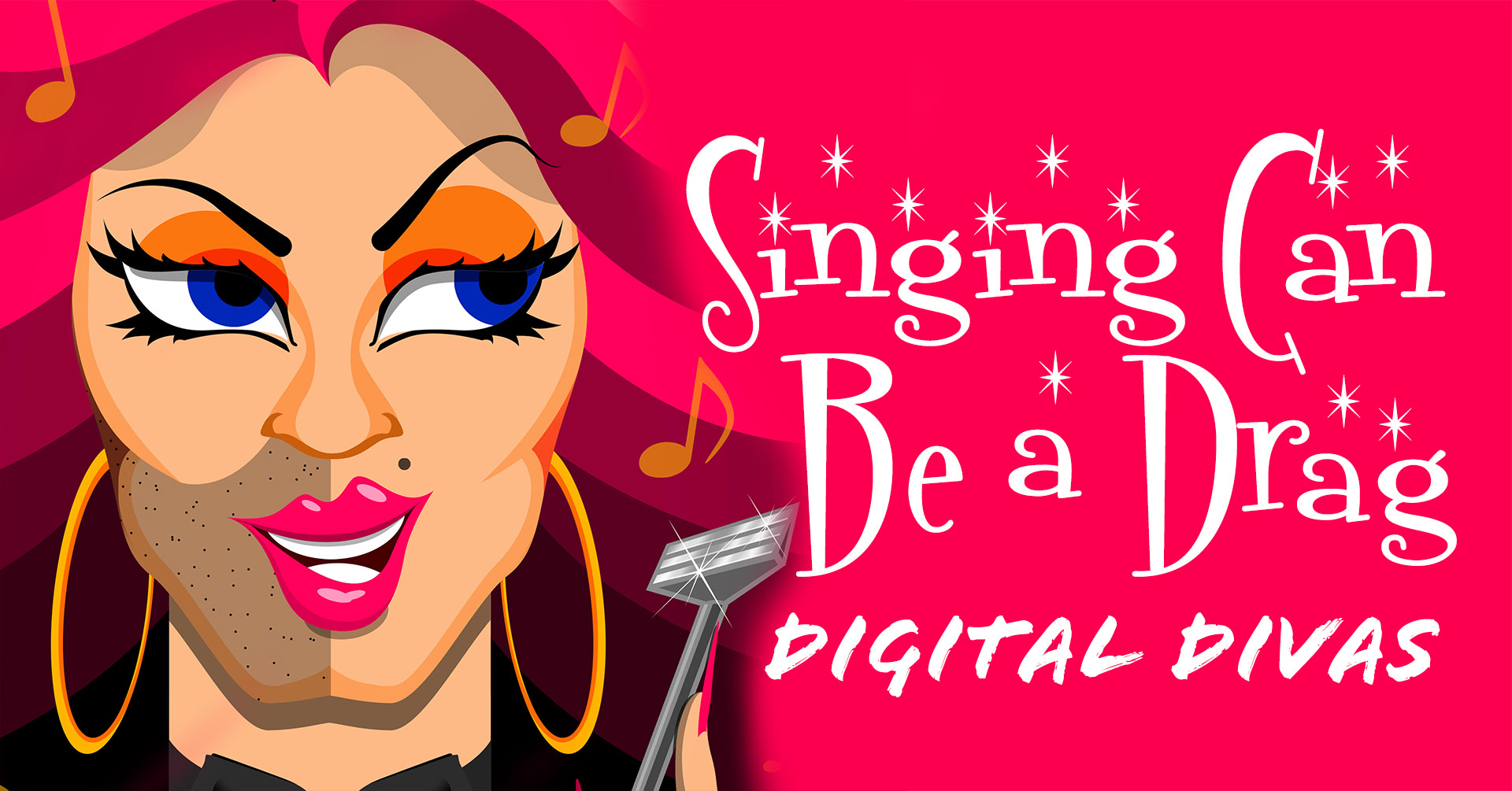 Get Ready For Our Digital Divas!
Let the Queens begin!
Digital Drag takes center-screen this year as the Vancouver Men's Chorus celebrates it's 40th season with its annual drag cabaret show Singing Can Be a Drag 2021: Digital Divas! From Disney to dance hits, Gaga to "Glitter and be Gay", drag audiences from all over the world are sure to be dazzled by the Queens of the VMC singing LIVE!
For our show, each queen is producing their own music video segment to be included in the broadcast—from directing, recording, wig styling, makeup, costumes, editing—we have taken an "all Queens on deck" approach to make this show a success for our patrons and community.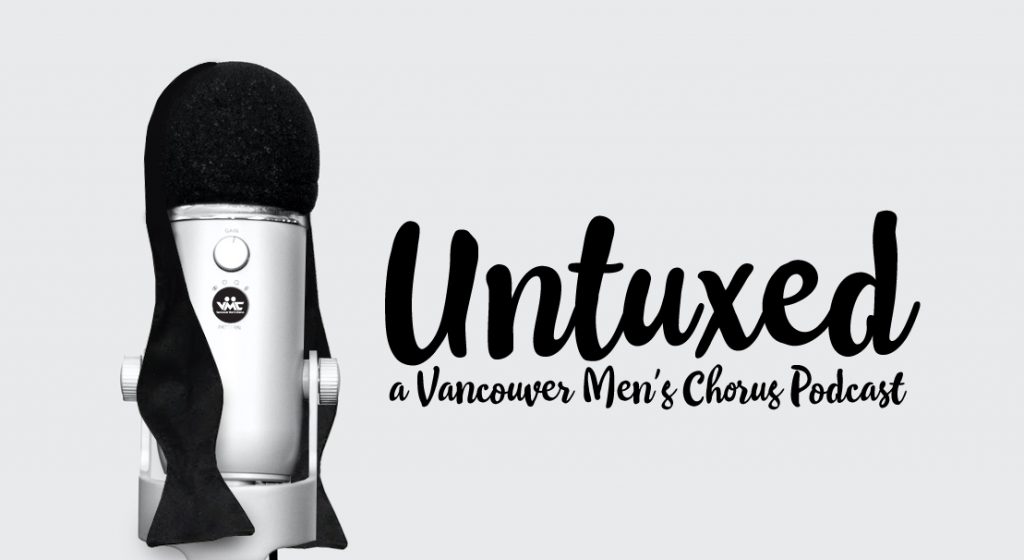 We Started a Podcast!
Well, what better way to get to engage with our members during the pandemic than to have a kiki via Zoom? Join our hosts Mikey Van Nen (Tenor 1) and Cale Tian (Tenor 2), as we kick off the 40th season of Vancouver Men's Chorus with
Untuxed

: a Vancouver Men's Chorus Podcast
. Dedicated to the legacy of VMC's first four decades, we share the stories of our members and our organization. Exploring beyond the stage as we share memories of singing, rehearsing, performing, and even a little bit of drag.
Listen and subscribe to Untuxed at anywhere you listen to your podcasts.
We are still here!
As you are all aware, due to the recent COVID-19 restrictions we have had to cease all in-person rehearsals and performances. We want to assure you this is only temporary and our members have been virtually meeting weekly to keep spirits and camaraderie alive. Equally important to the music of the VMC is the family we create, and rest assured, that family is thriving.
We cannot wait until the day comes when we can see your bright faces in person and perform for you live again. We are diligently following the health recommendations set forward by the province and will be updating you as soon as we know more. Remember – this is only the intermission, the show will go on!
Until then, we have recorded a little something for you! Check out the link below to see our boys perform Anthem by Leonard Cohen, as well as our version of Freeway of Love, from our homes to yours. If you're feeling generous and wants to help us creating more virtual content, such as this one, make a donation! Your contribution will ensure the chorus continue to thrive during the pandemic. So stay tuned!
Words and music by Leonard Cohen Choral arrangement by Willi Zwozdesky
Performance: Vancouver Men's Chorus
Conductor – Willi Zwozdesky; Accompanist – Stephen Smith; Percussionist – Phil Belanger; Audio recording – Brian Chan; Audio assistance – Len Christiansen; Video producers – Yogi Omar & Cale Tian; Video editor – Cameron Power
Words and music by Jeffrey Cohen & Narada Michael Walden. Choral arrangement by Gerry Ryan.
Performance: Vancouver Men's Chorus
Conductor – Willi Zwozdesky; Piano – Stephen Smith; Drums – Phil Belanger; Trumpet – Mark D'Angelo; Tenor Sax – Mike Braverman; Trombone – Greg Passmore; Bass Guitar – Laurence Mollerup; Percussion – Martin Fisk; Choreographer – Randy Romero; Videographer – Mark Halliday; Audio Recording – Len Christiansen; Video Producer – Yogi Omar; Video Editor – Cameron Power
Stay Connected to the VMC