Joining the VMC

The Vancouver Men's Chorus accepts new members in January and September each year.  Don't be shy—if you're interested in becoming involved, here's some of the information that you'll want to know: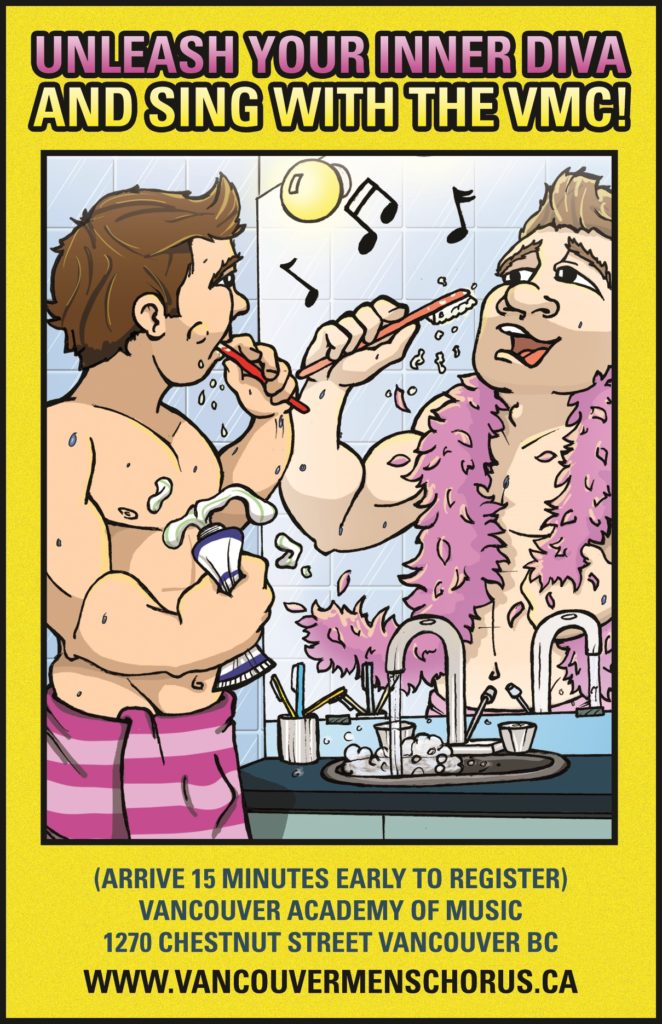 What am I getting myself into?
If you've been to one of our concerts and witnessed the sheer virtuosity, the stellar heights of unparalleled excellence, blah, blah, you've probably concluded that we have no lives at all other than giving our very essence to the VMC. Well, you're close. Here's what you're getting yourself into. You'll be:
Attending weekly rehearsals on Wednesday nights during our concert season (a month prior to major concerts, attend two rehearsals weekly).
Attending two annual week-end retreats
Memorizing music from sheet music and rehearsal recordings
Learning choreography
Buying a tuxedo (or showing up already owning one)
Helping with concert production at performances such as set take down.
And if this level of servitude still isn't enough for you, there's more! You could also be:
Singing a solo or soli—that's group solo for the Italian challenged (audition required).
Dancing with our core dance group (audition or getting really friendly with our choreographer required).
Joining a committee such as Music Selection, Concert Planning, Fundraising, or Social.
Joining the Board.
Designing or building sets and costumes
Volunteering in other ways (media, web design, coffee making…you name it!).
Does the VMC rehearse?
During our regular performing season (September through June), we have regular rehearsals followed by regular drinking and carousing:
Rehearsals are held every Wednesday from 7:30pm to 10:00 pm.
WHERE? – at the Vancouver Academy of Music – 1270 Chestnut Street, Vancouver.
Enter through the doors at the back of the building, off the parking lot.  You can't miss us!
About one month before main stage performances, we have rehearsals on Sundays as well.
If you become involved in our core dance troupe (choeur de ballet), there are added rehearsals for that as well.
I sang with the Met—do I still have to audition?
Our conductor Willi (riding crop in hand) kindly asks auditionees to sing a few scales followed by a Wagner aria or two (ha ha, just kidding). Actually, if you have sung a bit before (even Karaoke) and know a song you can perform (otherwise, "O Canada" is an excellent choice), you could be a singing member of the VMC as easy as do-re-mi.  Just sign-up for an audition time at any of the rehearsals during the first month of the term. The audition is non-competitive—we are a community chorus after all.
In general, the audition is designed to:
Assess your basic musical ability (you will be asked to match a pitch that is played on the piano and to repeat a basic rhythmic pattern).
Evaluate your voice to see which section of the chorus best matches your range.
What are week-end retreats?
Oh, oh…cue "Deliverance" theme music. Retreats are great fun and give us an excellent opportunity to work hard and play hard:
Week-end retreats are scheduled each term.  Retreats are either "in-town" or at a location outside of Vancouver, usually Squamish.
During Retreat weekends, we rehearse from Friday evening through to noon on Sunday, with ample breaks for fun and frolic thrown in.
There is an additional cost for retreats to pay for food, lodgings and meals.
My boyfriend doesn't sing—is there daycare for non-singing members?
Sometimes called the VMC Ladies' Auxiliary, non-singing members provide many vital duties and you don't really have to have a singing boyfriend to join as a non-singing member. As a non-singing member, you are welcome to attend all internal chorus activities including retreats and cast parties. Since you won't be singing, here are some of the things you can do to amuse yourself:
Administrative support—all the back-end stuff
Librarian—we weren't born with all that music memorized! Our librarian manages the very important task of ensuring singers get copies of the sheet music and catalogue new works.
Closer to show time, help is also appreciated in other areas like:
Set design—working with the concert planning committee to create the visual representation of the music
Set construction—building the visual representation of the music
Front of House—ticket (and VMC swag) sales, ushering, refreshments, clean up
Masseuse—we wish!
How much will I be paid? The Dues and Don'ts
Remember the part about the VMC being a community chorus? That's right—it's not a paying gig—no matter how fabulous you are darling.
Singing members pay $35 per month (September through June).
Non-singing members pay a fee of $10 per year.
That's it! Are you stoked and ready to take the plunge? Well then, come on out and give it a try!