COMING UP
Singing Can Be a Drag 2017
Performances
Saturday February 18, 2017
TWO Performances @ 5pm & 9pm
The Revue Stage – Granville Island, Vancouver (map).
Saturday February 25, 2017 @ 8pm
Columbia Theatre – 530 Columbia St, New West (map).
Tickets: Available Jan 28, 2017 @ 10am (online) and from Scotiabank on Robson @ Bute.
SIGN UP HERE for ticket release announcements and updates
A respectable drag queen never tells her real age, but the Vancouver Men's Chorus – now celebrating its 36th season, is proud to present its tenth annual fem-spectacular fundraiser – Singing Can Be A Drag!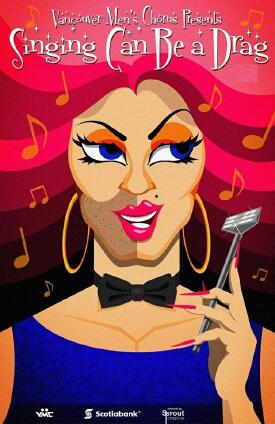 ---
Stay Connected to the VMC
We have a fabulous series of performances lined up (see list), and would love to keep you posted, particularly as tickets become available. With advertising in the press, via email and social media, posters and keeper cards, and word of mouth, our goal is to make sure you don't miss out. If you weren't able to buy tickets for the last run of performances, please take a moment to SIGN UP for future ticket release announcements.
---
VMC in the Community
The Vancouver Men's Chorus engages with the community through regular events, and by invitation. All invitations are gratefully received and presented to our Concert Planning Committee (CPC) for review. Click here for more details….
---
Sing with the VMC
It's a truly uplifting moment when you step onto the stage to perform for the first time as part of a huge team of guys. Continuing our fabulous 36th season of events, now is a great time to consider joining the VMC.
Our open rehearsals start at 7.30pm on January 4th 2017, with additional open rehearsals on January 11th, 18th and 25th. You should aim to arrive at 7.15pm.
Location
Vancouver Academy of Music 1270 Chestnut Street Vancouver BC (click here for map)
For more information about joining the VMC, click here.
Check out what some of our recent new members had to say about their experience of joining the VMC
Watch this interview with Lenny Cousineau (President) and Willi Zwozdesky (Artistic Director) for more insight into joining the VMC
---