COMING UP
We're very excited to present a packed season for your entertainment and delight. Work is well underway on our ever popular Making Spirits Bright performances (in December, 2015) and it is shaping up to be a classic VMC seasonal show. In November (21st/22nd), we take the MSB show on the road to Oak Bay, Victoria, where we will be performing at the invitation of the United Church. February 2016 sees the return of Singing Can Be a Drag, and March provides opportunities for the VMC to sing with Elektra Women's Choir and Chor Leoni at separate events. In June 2016, our main-stage Spring show "Road Trip" will see a 2 week run on Granville Island, followed by a road trip of our own to Denver to the huge 5-day GALA Chorus event in July. August wraps up the season with the much anticipated return of the Big Gay Sing and our entry into the hugely popular Vancouver Pride Parade.
For more details, click here and don't forget to sign up for regular email updates, and follow us on social media. To mark our 35 season, look out for our new MSB Live CD, available in December.
---
Making Spirit Bright 2015: Feast
Performances
Dec 4, 5, 10,11 – evenings @8pm, and Dec 6 & 12 – matinees @3pm, at St Paul's Anglican Church
Tickets
SIGN UP for exclusive ticket release announcements.
Patron Tickets available now (online)
Ticket price $85 includes $50 tax receipt, reserved seating and no line-ups!
Gen Adm Tickets available Sunday, November 1st @ 10am (online) and from Little Sister's, 1238 Davie St
Ticket price $35 
Tuesday, November 3rd from 10.30am
Scotiabank – Coal Harbour, 591 Cardero St, Vancouver
We thank our sponsor, Scotiabank, for once again supporting the VMC. For every General Admission ticket sold through the two Scotiabank branches, Scotiabank donates an equal amount back to the VMC.
Feast implies a large social event, with an abundance of food. A feast is a meal with a plenteous supply of food and drink for a large company. Food has been used since time immemorial as a social lubricant, bringing large groups of people together and giving them something tangible to focus on as they mingle. Many holidays throughout the year are celebrated with a feast and December has a high concentration. Christmas is famous for indulging, and even overindulging in food and drink, as is Solstice, especially Saturnalia, the ancient Roman Solstice festival. Yule was another pagan feast in December, and even Hannukkah's celebration of light is enjoyed with the eating of oil based foods like doughnuts and latkes.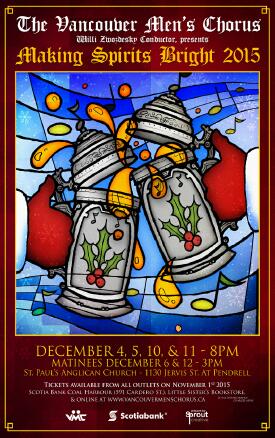 Stay Connected to the VMC
We have a fabulous series of performances lined up for 2015 (see below), and would love to keep you posted, particularly as tickets become available. With advertising in the press, via email and social media, posters and keeper cards, and word of mouth, our goal is to make sure you don't miss out. If you weren't able to buy tickets for the last run of performances, please take a moment to SIGN UP for future ticket release announcements.
---
VMC in the Community
The Vancouver Men's Chorus engages with the community through regular events, and by invitation. All invitations are gratefully received and presented to our Concert Planning Committee (CPC) for review. Click here for more details….