COMING UP
Making Spirits Bright 2017
Naughty or Nice?
Performances
Dec 9, 10, 14, 15 – Evenings  @ 8pm
Dec 10 & 16 – Matinees @ 3pm
Venue
St Paul's Anglican Church 1130 Jervis St, Vancouver
Patron Tickets available Saturday, October 28th @ 10am (online only)
Ticket price $87 includes $50 tax receipt, reserved seating and no line-ups!
Gen Adm Tickets available Wednesday, November 1st @ 10am (online) and from Scotiabank on Robson @ Bute
Ticket price $37 
Thank you Wayland Chow, Branch Manager at Scotiabank, Robson & Bute, for your continued and generous support of the VMC. For every General Admission ticket sold through the Scotiabank Robson & Bute branch, Scotiabank donates an equal amount back to the VMC.
SIGN UP HERE for ticket release announcements and updates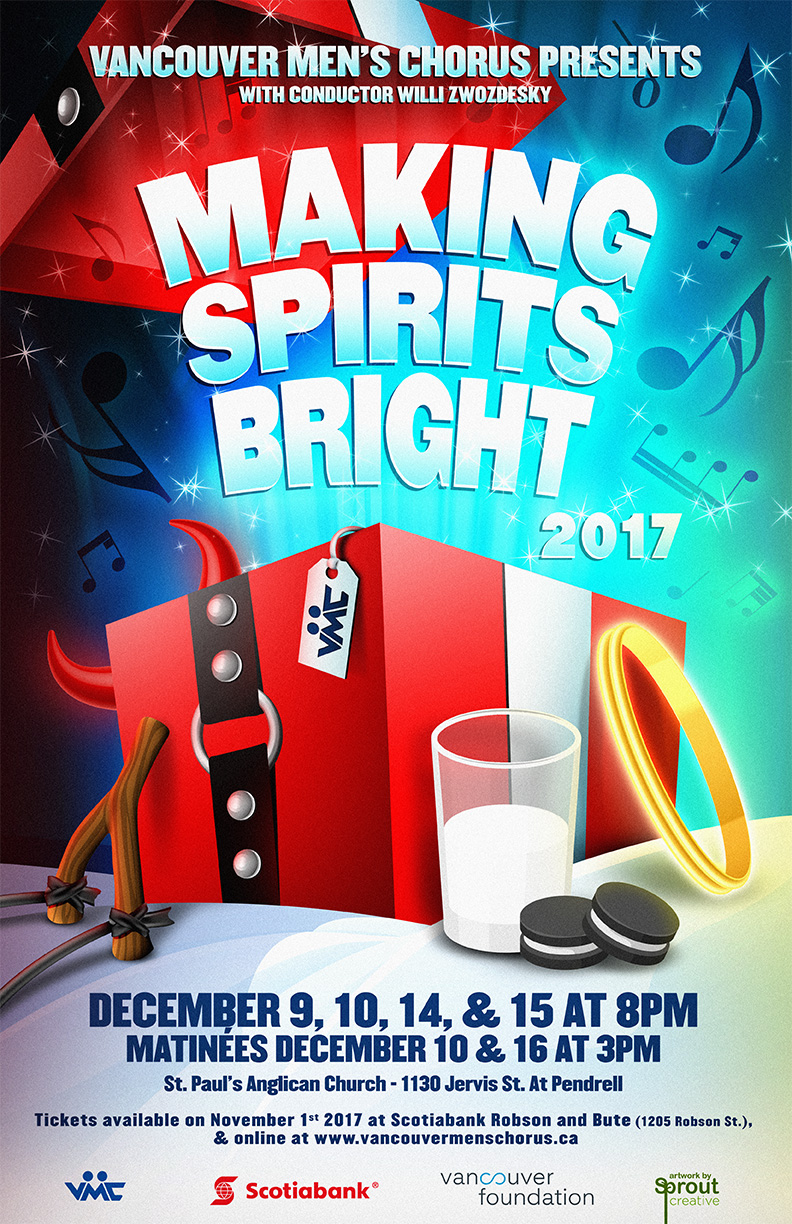 Naughty or Nice?
It's time for the annual separation into groups, as we make our list, and check it twice!
Let us know where you fit in, are you naughty or are you nice?Come join the VMC as we take a lighthearted look at our behaviour and it's consequences during the Holiday season. Maybe the goal is to make it onto both lists 😉. Naughty or Nice, we don't discriminate, all are welcome to MSB 2017.
---
Stay Connected to the VMC
We have a fabulous series of performances lined up (see list), and would love to keep you posted, particularly as tickets become available. With advertising in the press, via email and social media, posters and keeper cards, and word of mouth, our goal is to make sure you don't miss out. If you weren't able to buy tickets for the last run of performances, please take a moment to SIGN UP for future ticket release announcements.
---
VMC in the Community
The Vancouver Men's Chorus engages with the community through regular events, and by invitation. All invitations are gratefully received and presented to our Concert Planning Committee (CPC) for review. Click here for more details….