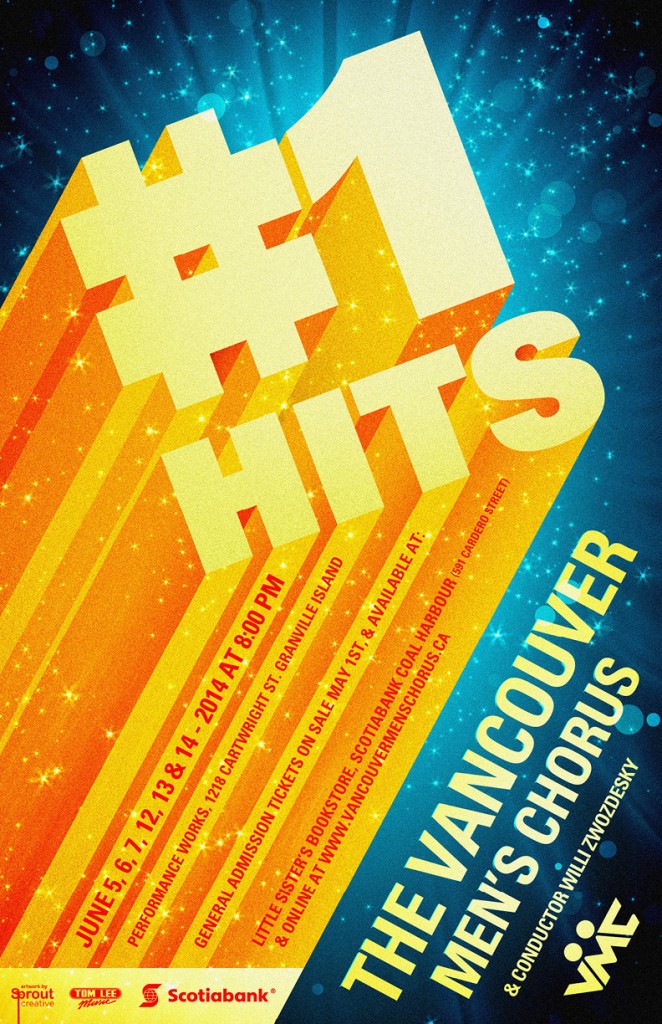 #1 Hits – A HUGE HIT with our audience
Thank you so much for attending our #1 HITS show at Performance Works on Granville Island. You helped make our Spring concert season a smashing success. The 6 sell-out performances played to the largest Spring audience ever in our 33 years!
We had wonderful support this year from our amazing Corporate Sponsors Scotiabank (Coal Harbour), Mill Street Brewery, The Party Bazaar and Seaspan, in addition to the many generous individuals who contribute their own money to the VMC. Click here to find out more about the benefits of donating to the VMC.
Coming up….
The Vancouver Men's Chorus marches back into Pride with the return of the immensely popular Big Gay Sing. This interactive audience sing-a-long takes you out of the spectator's seats and puts you into the production. Come join us after the pride parade on Sunday, August 3th, 2014. More details….
Part of the wonder of the Holiday Season comes from the surprise of the unexpected, the awe and amazement we can experience when selflessness and generosity replace the every day self interest of society. Think of the miracle of the lamp oil for Hanukkah, the astonishment of the Christian nativity story, the mystical yet merry Yule festivals, the mythology of the ancient Solstice observances, the magic of Santa and gift giving in our secular Christmas. More details….
Joining the VMC (more)
The Vancouver Men's Chorus accepts new members in January and September each year.  Don't be shy—if you're interested in becoming involved, click here for some of the information that you'll want to know.