COMING UP
MEN
Performances 
June 5, 6, 7, 11, 12 & 13th, 2015.
Venue Performance Works, Granville Island (map).
Doors @7:15, Show @ 8pm
Bar from 7:15pm to 11:30pm
Spend your night cruising in the company of the Vancouver Men's Chorus exploring all things manly in MEN – the 2015 VMC cabaret at Performance Works on Granville Island. MEN blazes a trail through the burly-brawny, sometimes brainy, clever, yet always hearty narrative of our lives with big singing and bold moves.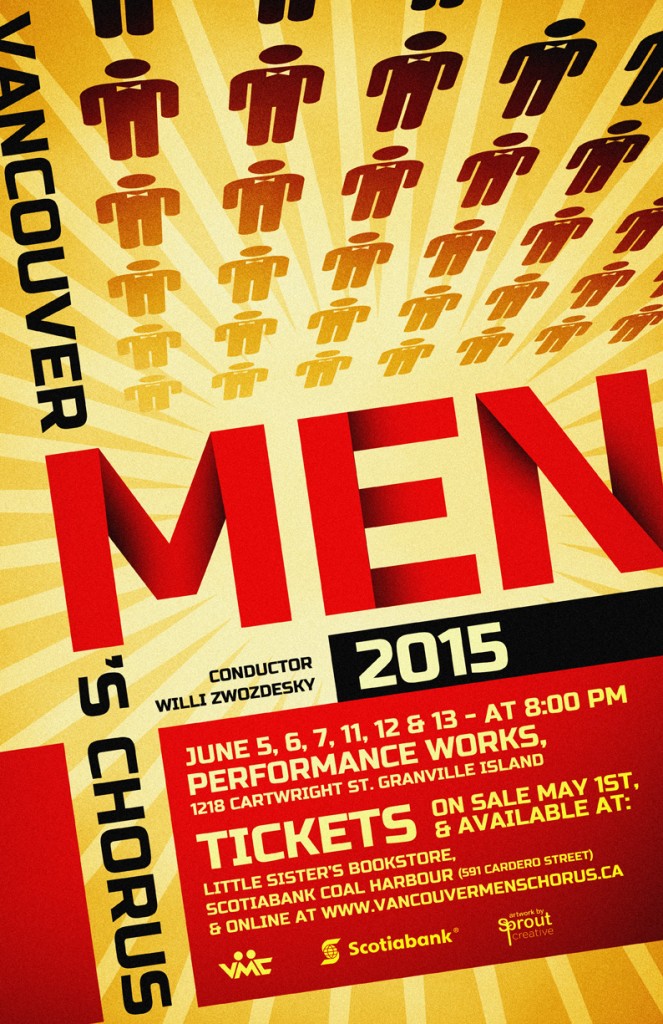 Be there when Adonis confronts The Beast, and Famous faces off with Infamous in duels of men at work and play! Topping its earlier production of For the Boys, MEN delves deeper into the VMC's exploration of this close-to-the-bone topic! Talk about Men. Sing about Men. Celebrate Men. Dance with Men. Fun with Men. Laugh with Men. Be about Men.
Click here for more details….
NEW THIS SEASON: Exceptional Patron Ticket Value:  BUY NOW
Our fabulous Patron Tickets just got even better! Year on year, more and more of our wonderful audience members have been purchasing Patron Tickets for the fantastic value they offer. This year, exclusively for the MEN show, we are very pleased to provide even more value for money:
EXCLUSIVE: Buy your Patron Tickets Now ONLINE ONLY . Beat the rush and get tickets for the show you want
Reserve a seat with your friends – the only way to ensure you can sit with the people you want to sit with
NEW: Dine at Bridges Restaurant on Granville Island and receive a 20% discount, just for attending the MEN show
Beat the line-ups – no more standing in line. Just stroll into the theatre (via the bar!) anytime before 8pm
Get a $30 tax receipt for each Patron ticket purchased (your emailed receipt contains your Bridges Restaurant discount voucher)
NEW: your tax free donation will help the VMC send more members of the chorus to represent Vancouver at GALA 2016 in Denver
NEW: extended bar hours. Stay for an extra drink with your friends and Chorus members. The bar will be serving until 11:30pm each night.
SIGN UP to receive timely email reminders
General Admission tickets available now Online, at Scotiabank Coal Harbour (open Tuesday to Friday @ 10.30am to 6pm, Saturdays @ 10.00 to 3pm) and Little Sisters.
NEW THIS SEASON: Corporate Partners

The VMC is extremely proud and grateful for support of our wonderful Corporate Partners
 
Thank you Scotiabank Coal Harbour
Scotiabank Coal Harbour matches, with an equal donation, the price of every General Admission ticket sold through their branch. We strongly encourage you to buy your General Admission tickets from Scotiabank Coal Harbour. Tickets will be available from the branch from 10am on Friday, May 1st. (map) Thank you Wayland Chow and all the wonderful staff @ Scotiabank Coal Harbour for your continued support. 
 
New for MEN
Backyard Vineyards is a beautiful winery based in Langley, BC. We are proud to offer BYVs award winning Gewurztraminer (white) and Meritage (red) wines. Thank you Felicity Holmes and the staff of Backyard Vineyards for your support of this show. We hope this is the start of a wine-loving relationship!
 
New for MEN
Red Truck Brewing is a fabulous local company, based in East Vancouver. We are extremely proud to be able to offer Red Truck beers, ales and lagers at our shows, an in so doing, supporting the fantastic craft beer industry that has sprung from nowhere here in beautiful BC. Thanks to Sam Payne and his team at Red Truck for making this possible. We look forward to many more years together. 
 
Continued support
The VMC's relationship with Vancouver-based Party Bazaar goes from strength to strength. Party Bazaar provides many of our props, costumes and staging materials at a huge discount. A fabulous and fun party store, the Party Bazaar is a great place to explore and to find the impossible. Thank you Rhona Segarra and the team at Party Bazaar for your continued support of the VMC.
 
Continued support
Tom Lee Music donates the rental of a beautiful Yamaha C3 Piano for our spring shows. The VMC is extremely grateful for this generous ongoing relationship with the lovely people at Tom Lee. Thank you Ron, Amy and Aida at Tom Lee for your committed support of our organisation. 
Making Spirit Bright 2015: Feast
Performances
Dec 4, 5, 10,11 – evenings @8pm, and Dec 6 & 12 – matinees @3pm, at St Paul's Anglican Church
Tickets
SIGN UP for exclusive ticket release announcements. General Admission from Nov 1, 2015.
Feast implies a large social event, with an abundance of food. A feast is a meal with a plenteous supply of food and drink for a large company. Food has been used since time immemorial as a social lubricant, bringing large groups of people together and giving them something tangible to focus on as they mingle. Many holidays throughout the year are celebrated with a feast and December has a high concentration. Christmas is famous for indulging, and even overindulging in food and drink, as is Solstice, especially Saturnalia, the ancient Roman Solstice festival. Yule was another pagan feast in December, and even Hannukkah's celebration of light is enjoyed with the eating of oil based foods like doughnuts and latkes.
Click here for more details….
---
Stay Connected to the VMC
We have a fabulous series of performances lined up for 2015 (see below), and would love to keep you posted, particularly as tickets become available. With advertising in the press, via email and social media, posters and keeper cards, and word of mouth, our goal is to make sure you don't miss out. If you weren't able to buy tickets for the last run of performances, please take a moment to SIGN UP for future ticket release announcements.
---
VMC in the Community
The Vancouver Men's Chorus engages with the community through regular events, and by invitation. All invitations are gratefully received and presented to our Concert Planning Committee (CPC) for review. Click here for more details….
---
Sing with the VMC
Congratulations and welcome to all the fabulous new guys who have recently joined our ranks.
The Spring 2015 season is now closed to new members, but you can come and see our shows, get inspired, then join us in September when we open our doors once again to new recruits.
Location
Vancouver Academy of Music 1270 Chestnut Street Vancouver BC (click here for map)
For more information about joining the VMC, click here.
Check out what some of our recent new members had to say about their experience of joining the VMC
Watch this interview with Lenny Cousineau (President) and Willi Zwozdesky (Artistic Director) for more insight into joining the VMC