COMING UP
Singing Can Be A Drag 2016
Saturday February 20, 2016
Columbia Theatre, New West
Saturday February 27, 2016
York Theatre, Vancouver
Doors: 7.30pm, Show: 8pm
PATRON TICKETS – AVAILABLE JANUARY 23rd, 2016 from 10am (online only)
Ticket price $50 includes a $25 tax receipt, reserved seating and no line-ups.
GENERAL ADMISSION TICKETS – AVAILABLE JANUARY 30th, 2016 from 10am
Ticket price $25 
Online from 10am
Scotiabank 591 Cardero St from 10am Saturday, January 30th (T-F 10.30am to 6pm)
Brick & Mortar 52 6th Street @ Carnavon
Coming Home Cafe 735 6th St 
Scotiabank, 1500 Marine Dr from 9.30 on Monday, February 1st
We thank our sponsor, Scotiabank, for once again supporting the VMC. For every General Admission ticket sold through the two Scotiabank branches, Scotiabank donates an equal amount back to the VMC.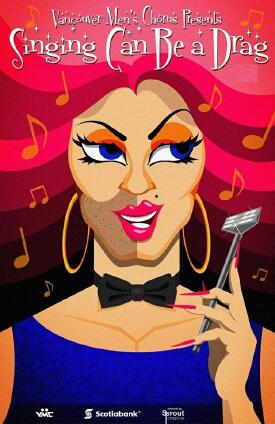 A respectable drag queen never tells her real age, but the Vancouver Men's Chorus – now celebrating its 35th season, is proud to present its ninth annual fem-spectacular fundraiser – Singing Can Be A Drag! Vancouver's very own drag icon and VMC life-member, Bill Monroe will host an evening of live-singing, female-impersonating musical entertainment performed by the VMC's own inner-diva starlets – featuring covers of your favourite recognizable (some unrecognizable) divas! This musical treat promises you more evening-length glamour, more vocal-feats, higher kicks and more synthetic hair than seen at your cousin's wedding! Mark your social calendar and bring your friends! Proceeds help support the VMC in its LGBT community outreach and mainstage concert programming. Thank you! Warning! Viewers may be exposed to wardrobe malfunctions, flying sequins, improvised lyrics, mixing of fabric patterns, polyester blends, gender-questioning sexual urges, infectious camp and other spontaneously occurring un-scripted performance phenomenons! Be sure to get your tickets early as this event has sold out in past years!
Click here for more details….
---
Sing With The VMC
Check out what some of our recent new members had to say about their experience of joining the VMC
Watch this interview with Lenny Cousineau (President) and Willi Zwozdesky (Artistic Director) for more insight into joining the VMC

---
Stay Connected to the VMC
We have a fabulous series of performances lined up for 2016, and would love to keep you posted, particularly as tickets become available. With advertising in the press, via email and social media, posters and keeper cards, and word of mouth, our goal is to make sure you don't miss out. If you weren't able to buy tickets for the last run of performances, please take a moment to SIGN UP for future ticket release announcements.
---
VMC in the Community
The Vancouver Men's Chorus engages with the community through regular events, and by invitation. All invitations are gratefully received and presented to our Concert Planning Committee (CPC) for review. Click here for more details….