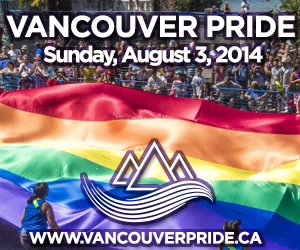 Vancouver Pride
Sunday, August 3rd from 12pm
The VMC is very close to the front of the parade so you'll want to be in your position along the route close to 12pm.
This year, we are very pleased to be marching (and singing/dancing of course!) with our fabulous sponsors, Scotiabank.
Come prepared for the Parade – Be Sun smart – Wear a shirt, put on a hat, drink water and wear that sunscreen. Bring a toonie for Pride and throw it into the big rainbow flags along the route.
Take what you bring, don't leave trash. Bring water from home in reusable containers.
The parade begins at Robson Street and Thurlow Street, heads west to Denman Street, follows Denman to Pacific Street and Beach Avenue and finishes at Sunset Beach Pride Festival and Market. More info
Later on Pride day, please join us for a fun and fabulous evening at The Roundhouse. The Big Gay Sing is a great way to continue your Pride 2014 celebrations. Tickets are still available (more info)
---
Coming up….
The Vancouver Men's Chorus marches back into Pride with the return of the immensely popular Big Gay Sing. This interactive audience sing-a-long takes you out of the spectator's seats and puts you into the production. Come join us after the pride parade on Sunday, August 3th, 2014. More details….
Part of the wonder of the Holiday Season comes from the surprise of the unexpected, the awe and amazement we can experience when selflessness and generosity replace the every day self interest of society. Think of the miracle of the lamp oil for Hanukkah, the astonishment of the Christian nativity story, the mystical yet merry Yule festivals, the mythology of the ancient Solstice observances, the magic of Santa and gift giving in our secular Christmas. More details….
Joining the VMC (more)
The Vancouver Men's Chorus accepts new members in January and September each year.  Don't be shy—if you're interested in becoming involved, click here for some of the information that you'll want to know.