COMING UP
BIG GAY SING
It's back!
Date: Thursday, July 28th , 2016
Venue: The Revue Stage, Granville Island (map).
Doors @ 7:00pm Show @ 8:00pm
Bar from 7:00pm
Tickets
Patron ($50 – includes $25 tax receipt, no line ups, reserved seating)
General Admission ($25)
Online from July 1 @ 10am 
BUY ONLINE
Scotiabank – Marine & MacGowan


1500 Marine Dr, North Vancouver (

map) from Monday, July 4th from 9.30am
Scotiabank – Coal Harbour
591 Cardero St, Vancouver (map) from Tuesday, July 5th from 10.30am
We thank our sponsor, Scotiabank, for once again supporting the VMC. For every General Admission ticket sold through the two Scotiabank branches, Scotiabank donates an equal amount back to the VMC.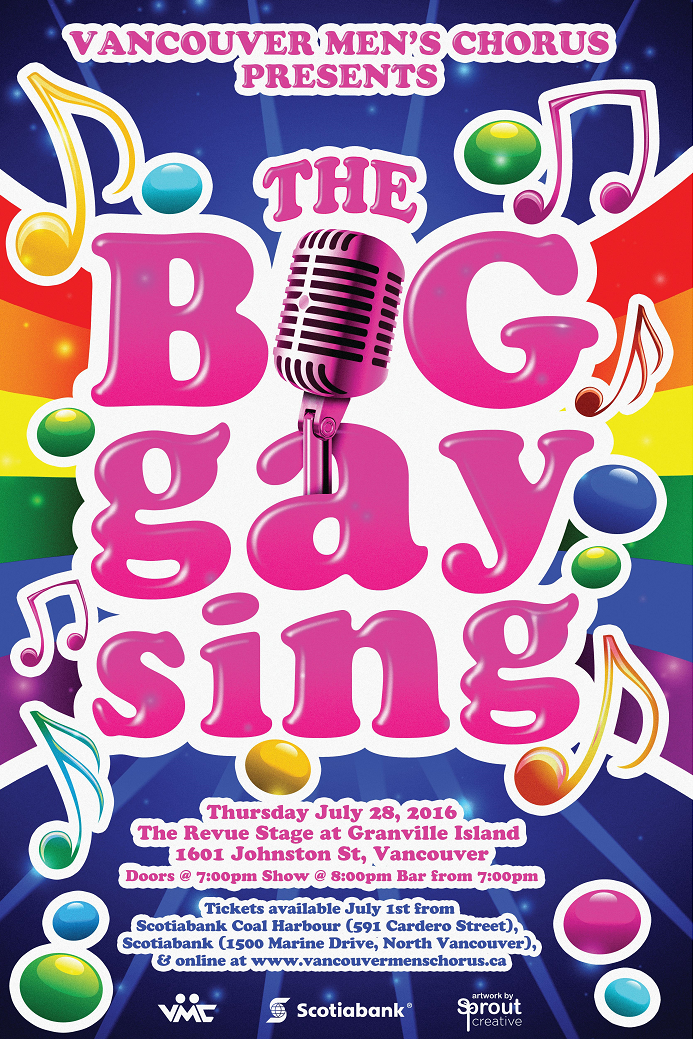 Kick-start Vancouver Pride 2016 with the Vancouver Men's Chorus!
This year, we have a fabulous new venue (The Revue Stage @ Granville Island), and a new show date (Thursday, July 28th, 2016) ensuring you get your Pride on at the start of Pride weekend.
This interactive audience sing-a-long takes you out of the spectator's seat and puts you right into the performance. Don't even think about sitting back and just watching the show!! Our hosts will get you up off your feet, dancing and singing to our favourite gay anthems. Now, before you start fretting that you don't know the words, they will be provided for you. The venue is licensed.
Get your PRIDE on and let's celebrate how absolutely fabulous we are!!!!
---
The VMC goes on the road to Denver
GALA Choruses, July 2-6, 2016, Denver, CO
The Vancouver Men's Chorus is committed to attending the GALA Choral Festival in Denver Colorado in July 2016. All chorus members are encouraged to participate as this is an official VMC performance. To date, we have our largest ever turnout of men with over 80 of our active members making the trip to Denver to represent all that is wonderful and gorgeous about our beautiful and inclusive city. Check out our GALA video which will be used to introduce the VMC to our audience before our performance on Sunday, July 3rd.
GALA Choruses leads the North American GLBT choral movement. GALA cultivates the artistic development of 10,000 singers from more than 190 choruses in the United States, Mexico, and Canada. They serve choruses small or large. Every 4 years, GALA Choruses hosts
the not-to-be-missed
GLBTQ Music Festival!
Click here
for more details.
---
Sing With The VMC – Sept 7, 14, 21, 28, 2016
Check out what some of our recent new members had to say about their experience of joining the VMC.
Watch this interview with Lenny Cousineau (President) and Willi Zwozdesky (Artistic Director) for more insight into joining the VMC
Click here for more details…
---
Stay Connected to the VMC
---
VMC in the Community
The Vancouver Men's Chorus engages with the community through regular events, and by invitation. All invitations are gratefully received and presented to our Concert Planning Committee (CPC) for review. Click here for more details….